Thomas Train Balloons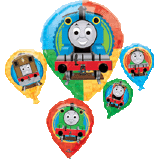 Our great selection of Thomas & Friends balloons will add additional color for your little engineer's birthday party. We carry Thomas balloons in various size and types such as mylar (foil) balloons, Thomas the Tank Engine super shaped balloons, latex balloons, a cluster balloon and a super shape panoramic balloon for your Thomas party decorations.
There are no products in this category.
Featured
$1.50

$1.25

$3.99

$3.65

$3.99

$3.25

$3.99

$3.25

$1.75

$3.49