TrainParty.com primarily ships heavy-weight packages via UPS Ground, UPS 2-Day Air (RUSH Shipping) and the light-weight packages with US Post Office Priority Mail, Express Mail (RUSH Shipping), First-Class Mail. We also offer FREE SHIPPING (Standard 3-4 Days Delivery) on all orders of $75 or more in the contiguous 48 states of USA. Please refer to our Canada Shipping section for delivery time and shipping cost to Canadian orders. For Returns & Refunds, Please scroll down to the bottom of this page.  Same Day Processing! Place your order by 2 p.m. CST (Mon-Fri) and your order will ship same day!
Delivery Time and Cost:
Our goal is to get your products shipped as soon as possible. Orders received by 2.00 p.m. CST are processed on the same business day. All orders placed after 2:00 p.m. CST are processed on the following "business day". Orders received on non-business days (Saturday, Sunday and Holidays) are processed on the following business day. Please refer to the shipping rate table below for more details. Also, please use the color coded UPS Standard Shipping Transit-Time Map located below on this page to get your actual delivery time.
STANDARD SHIPPING - 3 to 4 Day Delivery  * 48 Contiguous States
US Post Office -OR- 

UPS



Purchase Amount
Shipping Cost / Method
$00.01 to $14.99
$5.75
$15.00 to $24.99
$7.75
$25.00 to $49.99
$8.75
$50.00 to $74.99
$9.75
$75.00 and above
FREE Shipping!
*NOTE: Due to the package dimensions or weight restrictions, we will pick the best method of shipping and make sure your package arrives in time i.e. 3-4 Days Delivery. To keep our prices low some of the order under $15.00 may be shipped First Class Mail. Please make sure your address is deliverable by UPS and US Post Office. Use the comment box on the checkout page to send a note to our shipping department.
RUSH SHIPPING - 2 Day Delivery. Shipped via UPS Air -OR- USPS Express Mail
Purchase Amount
Shipping Cost / Method
$00.01 to $29.99
$35.99
$30.00 to $59.99
$45.99
$60.00 to $89.99
$57.99
$90.00 to $149.99
$68.99
$150.00 to $224.99
$79.99
$225.00 to $299.99
$90.99
$300.00 to 449.99
$99.99
$450.00 and up
$139.99 or more... We will call you with actual shipping rate.
Post Office - Priority Mail : Alaska, Hawaii, Puerto Rico & Military States.
Purchase Amount
Shipping Cost
$00.01 to $29.99
$13.99
$30.00 to $74.99
$20.99
$75.00 to $124.99
$27.99
$125.00 to $249.99
$34.99
$250.00 and up
$57.99
UPS Ground Standard Shipping Transit-Time Map: LA PLATA, Missouri 63549. Business days are Monday to Friday. Please note that order shipping (processing) day MUST NOT be counted in the delivery time. For example; if the order ships on the 1st Feb. then your first day of transit will be 2nd Feb. and so on.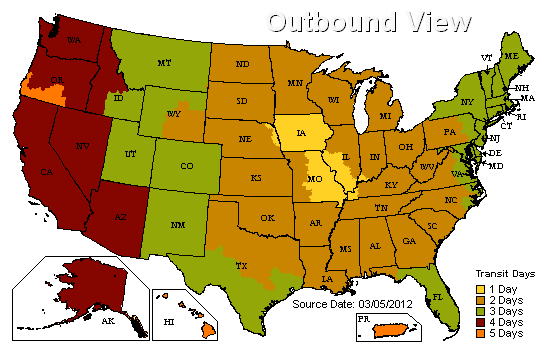 Shipping to Canada :
Your packages may be subject to the customs fees and import duties of the country to which you have your order shipped. Customers are responsible for payment of import duties, tariffs and taxes. Please note that items shipped from the United States into Canada / Australia may require additional delivery time because of increased security measures at border crossing points. Please call us at 1-800-761-4294 for expedited shipping rates. For products shipped internationally, please note that any manufacturer warranty may not be valid. We recommend you to visit websites such as Canada Border Services Agency (CBSA). All items are subject to review for admissibility into Canada by the Canada Border Services Agency. Once an item clears all regulatory processes, it is handed over to Canada Post for delivery. Delivery time depends on the product and the distance to its destination
CANADA SHIPPING - 7 to 9 Day Delivery. Shipped via Post Office - Priority Mail All rates are in US DOLLARS and do not include applicable customs, duties and taxes.
Purchase Amount
Shipping Cost
$00.01 to $29.99
$29.99
$30.00 to $59.99
$33.99
$60.00 to $89.99
$39.99
$90.00 to $129.99
$45.99
$130.00 to $169.99
$55.99
$170.00 to $199.99
$65.99
$200.00 to $349.99
$75.99
$350.00 to 499.99
$85.99
$500.00 to 749.99
$95.99
$750.00 and UP
$105.99
Returns, Restocking fee and Refunds:
Train Party stands 100% behind your order! If for any reason you are not satisfied with our train party favors, please return it within 30 days from the date of purchase for a refund on the returned goods. Merchandise must be returned in salable condition. Returnable items must be un-opened and in original condition.


Please note that shipping charges are not refundable. The original shipping charges associated with the returned item(s) will be deducted from the refund amount unless the return was due to our error (you received an incorrect or defective item, etc.).


Also note that TrainParty charges 15% Restocking Fee on all (except for the damaged goods received or late delivery) returns.


Send returns with a copy of your invoice or packing slip to the following address: 

TrainWeb LLC  dba TrainParty.com
ATTN: RETURNS DEPT.
100 E Benton St. 
La Plata, MO 63549

Contact Information:
We value your opinions. If you have comments or questions about our store, please call us at 1-800-761-4294 or write to us and mail it at the above given address.